Ariana Grande Releases A "Thank U Next" Sequel
By St. John on September 19, 2019
JUST WHEN WE THOUGHT THE ICONIC MUSIC VIDEO TO THANK U NEXT COULDN'T GET ANY BETTER ARIANA GRANDE GIVES US A HILARIOUS SEQUEL PROMOTING HER NEW FRAGRANCE!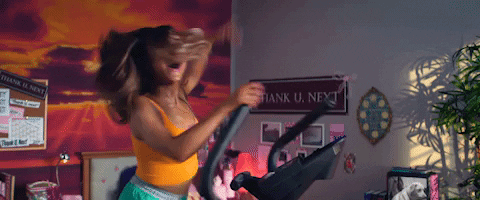 Back in August Ariana Grande announced that she would be releasing an Ulta exclusive fragrance inspired by her Hit Song and Album "Thank U Next"! The fragrance bottle is a pink clear bottle inside a broken heart but the fragrance is far from a heartbreak. When describing her perfume ,before it was released, Ariana described it as "I can't wait for u to see/smell her…she's like 'ari' if she went to the beach one time,".
Now let's put it together with one of Ariana Grande's most iconic music videos Thank U Next that was inspired by some of our favorite early 2000's Rom Com's!!! The music video played homage to MEAN GIRLS, THIRTEEN GOING ON 30, LEGALLY BLOND,  AND BRING IT ON also giving us the best "cool mom" in music video history!!!
Let's relieve how fetch it is!!
On Thursday morning Ariana Grande made us re live the hilarious opening scenes to Thank U Next by giving us a sequel promoting her new fragrance. The lines are just hilarious as the music video…..with rumors like " I heard she sings to a Rose Garden Every Day" "I heard she swam with actual mermaids in the Bermuda Triangle" and "Rumor has it she put part of her ponytail in it".
And yes, she actually cut off a piece of her ponytail!
See the full video below…..
---