Join St John on St Johns Play House every Monday – Friday at 4:15P as he brings you his newest segment called…..St John's Fierce 5!
ST JOHN YOU'RE SO ……DISNEY!!!! St John joined some of our lucky listeners at the HAPPIEST PLACE ON EARTH where he broadcaster live and made sure to share exclusive Disneyland tips and tricks for all the folks listening on the airwaves! 
Just look at all those happy smiles from our Disneyland Grand Prize Winners!!!
In a Sit Down Live Interview with Disneyland's Resort's Chef Scott St John asked the expert of all Disneyland treats the big question…….What are the five must try foods or desserts when you visit the resort!!?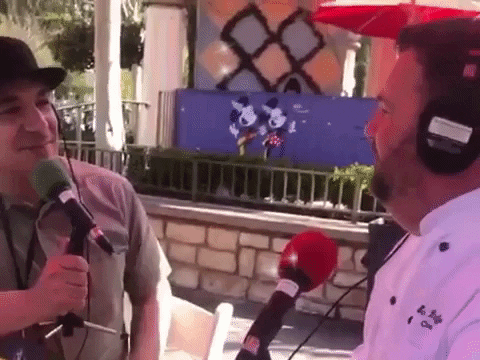 You are in for a treat because not only did he describe the delicious foods but made it easier for you by telling you where to go get some of them.
Here is his list below AND CAN WE SAY THAT WE ARE HERE FOR ALL OF IT…YUM!!!
1. A CORN DOG
2. CHURROS
3. MONTE CRISTO SANDWICH
4.RASPBERRY MACARON
5.DONUTS
---
There you have it….from the expert himself. Now you have your list of must tries during your Disneyland getaway. Good Luck choosing just one because It all sounds so good!!!
If you have your favorite Disney Treat make sure to share it with us by tagging #FierceFiveDisney.
Stay Fierce and Fabulous!!