Join St John on St Johns Play House every Monday – Friday at 4:15P as he brings you his newest segment called…..St John's Fierce 5!
HAPPY NATIONAL UNICORN DAY!🦄
Yes it is a made up Holiday but how could you NOT celebrate when there are so many cute and fun Unicorn themed things out there!!!
Plus…..they're so fluffy!!!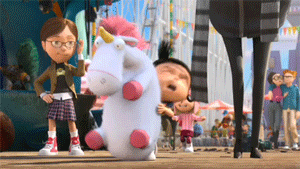 St John broke it down ….So here are St John's Fierce Five Ways To Celebrate National Unicorn Day!!
Here goes….
1.CHUCK E. CHEESE'S UNICORN CHURROS 
'Chuck E. Cheese's has Unicorn Churros through June 6 but is offering them for free Today with the purchase of 30 minutes of "All You Can Play."
2.BUILD A UNICORN
NEW unicorn alert! In honor of #NationalUnicornDay we're introducing a new Color Craze Unicorn and want everyone to find their unicorn spirit! Don't forget to celeBEARate with a one-of-a-kind flash sale online only! US: https://t.co/O2qDoLbzlQ UK: https://t.co/quqzfMZ4JI pic.twitter.com/uT2pO2XwcR

— Build-A-Bear Workshop (@buildabear) April 9, 2019
(Get Your Spirit Unicorn Here)
I mean……how cute are these!!! You can find them at any location that has Pop Tarts. They ARE limited time so don't wait on it.
"Join us as we celebrate all that is special about Pop-Tarts®: the filling, frosting, and sprinkles that dazzle our taste buds and make us dance with delight."
4. SPECIAL EDITION KRAFT UNICORN MAC AND CHEESE 
"Kraft Macaroni & Cheese Unicorn Shapes bring a little bit of magic to the dinner table."
5.UNICORN COTTON CANDY!
If you need a sugar rush then you can't miss out on some Unicorn Cotton Candy!! Yuuuummm!
Find the closest store to you HERE!
---
So there you have it guys!
Have a Fierce and MAGICAL Day!!